My daughter always love to have a long hair. As a mom, I always wanted to support to whatever she wants to be. She started to love long hair when she was 2 years old, she keep on saying, mommy I
 wanna have that kind of hair, or when she's seeing one she always keep saying "wow she has a nice hair". And so then I started to let her hair and also mine grow till it get this long. Now we both have long hair, but mine is easier to get long, I don't know why. But she's good with it. Now that she have long hair, I always made sure her hair grows beautiful and always with accessories. She doesn't like the idea of putting accessories but she got used to it, now she's the one choosing her hair accessory like this accessories we got from Tanger.
She also got some jewelries. A beautiful heart necklace and 3 pairs of earrings.  She also wanna have a ring like tungsten rings we saw online but it doesn't fit her very tiny finger. She got teh idea of wearing a ring too when she saw me browsing some  tungsten jewelry online coz I love their beautiful rings there and thinking if husband would give meone someday (day dreaming)!  Aside from these accessories, I also made a crochet head band for her. A colorful one! She loved it and I am planning to make more of it. Maybe a different design this time.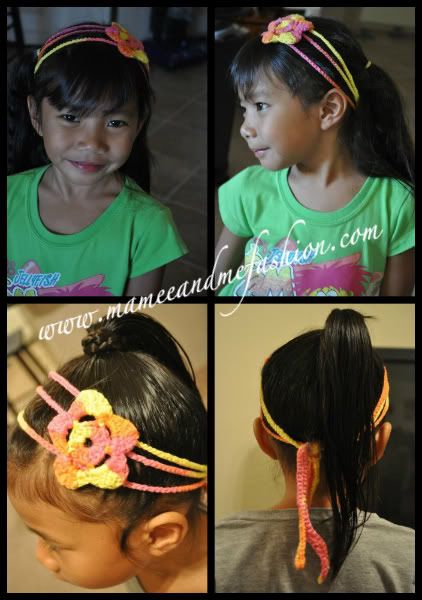 Pretty, Isn't?