Yesterday was a lucky day for me. We went to North West Arkansas Mall in Fayetteville to look for a PACMAN shirt in NIKE coz we're going to watch in a friend's house via payperview and we  to we  should wear any PACMAN outfit. Husband has his shirt already, the one he used last year's Pacman fight with Margarito. Too late for me to order online that's why we decided tried to look in a Nike store. Sadly we didn't find any Pacman shirt so we looked for the kids' clothes instead. We went to GYMBOREE store but there's nothing for Ishi there. We hopped on to GAP kids and I was surprised I was randomly given a mother's day card. I opened it and it says there I was entitled to have 30% discount so husband didn't choose other store anymore.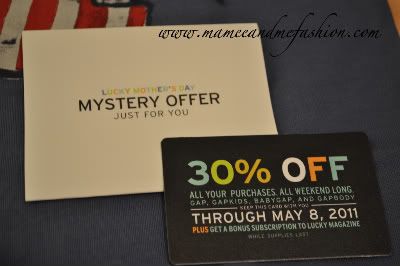 Daddy and Kids entering Gap Botique
Ethan showing his "No. 1 dad" to his daddy
and here's for Ishi
My little model showing her shorts to her daddy
Shopping is really not our vice, we were just shopping for what we need. The Daddy just wanted to buy something for the kids so he bought these items.